Yes, you can take advantage of the mass traffic some videos on YouTube get, funnel traffic to your website, and do it ethically and above-board. No sneakiness here. In fact, you could be helping the video owners too. It's a win-win situation. Take a few minutes to watch this video.
Currently, the first members of the Clockwork Blogs program are in a photography workshop, as part of their ongoing lessons for building an authoritative blog. Last week, I took them on a virtual photography field trip to practice some of the techniques they had been learning in their lessons. I showed how to get a number of interesting photographs in one location – in this case, my local Shinto shrine (Kawahori Jinja). As my friend Chiu in Hong Kong is always happy when I publish pictures from Osaka on this poor neglected blog – and there are others who enjoy these too – I'm publishing the results of the field trip here. Enjoy!
Here is the look through the Torii (the shrine gate) at the main shrine.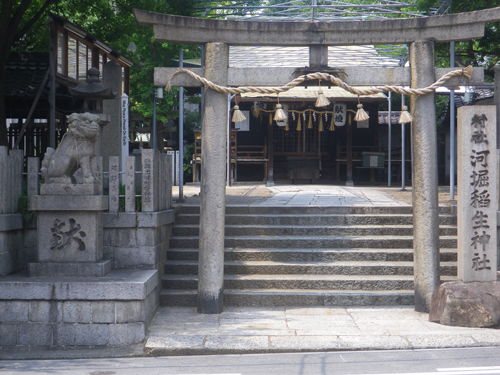 An up close photo of the large rope and lanterns in front of main shrine.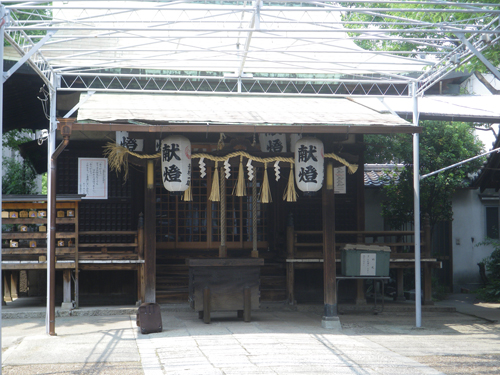 Prayer strips visitors have attached to a special frame for this purpose.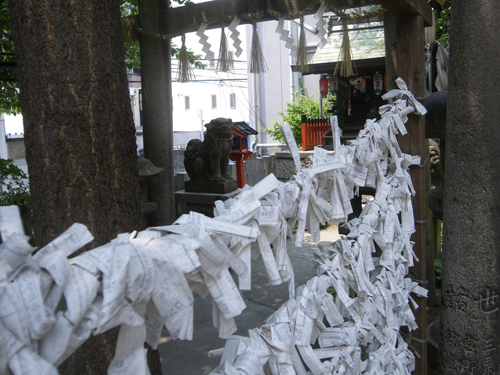 And some have attached their prayer strips to the bamboo trees along one side of the shrine grounds.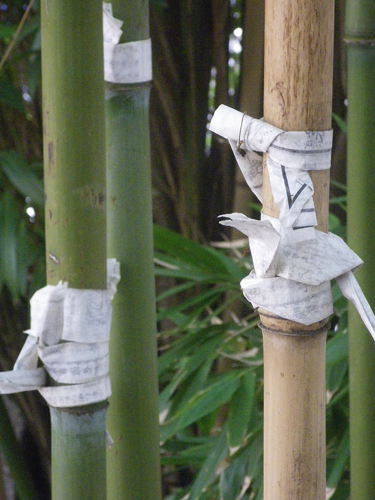 Others have bought prayer tablets and attached them near the main shrine.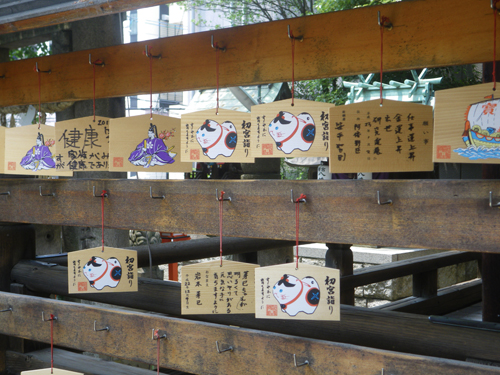 Here, a look down a small path to one of the mini shrines flanking the main shrine.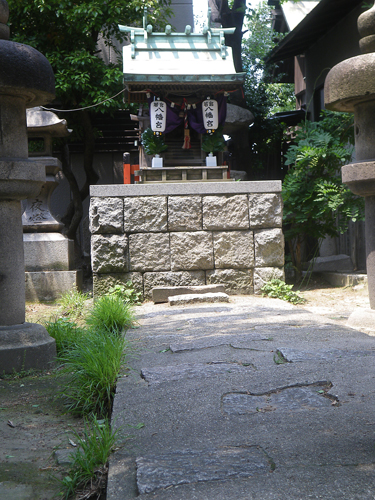 The collection box and large bell ropes in front of the main shrine.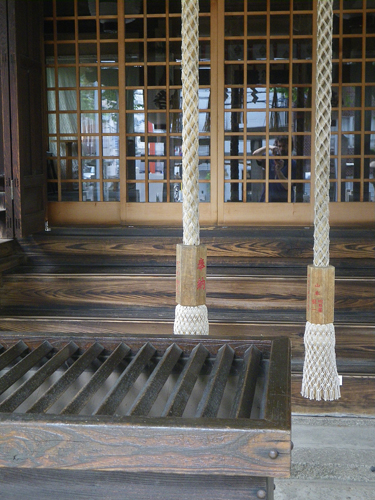 A stone shrine dog.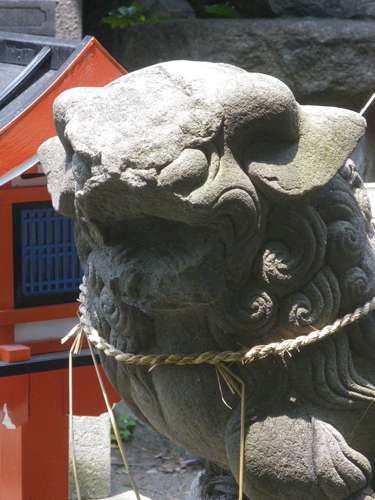 One of the stone lanterns on the grounds.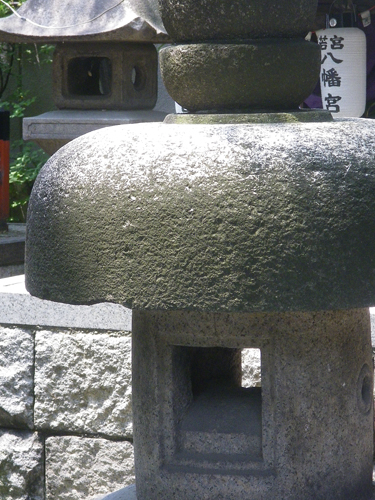 A large stone tablet.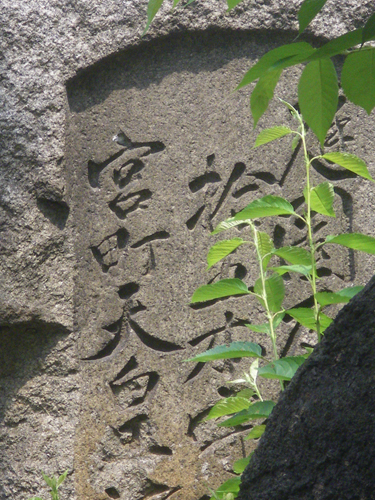 A stone pillar beside the main shrine.
A fence of stone pillars along the perimeter.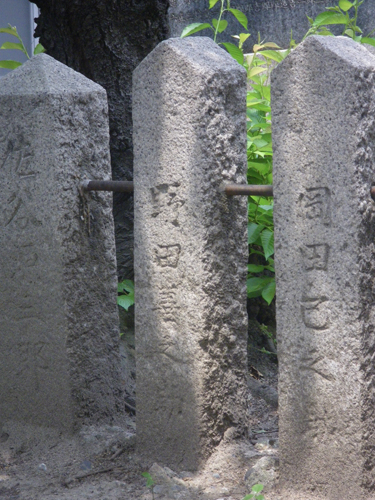 More stone lanterns beside the main shrine.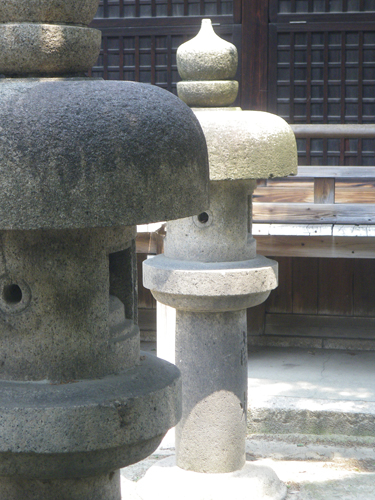 One of the local cats has found a perch in the sunshine on the side of one of the mini shrines.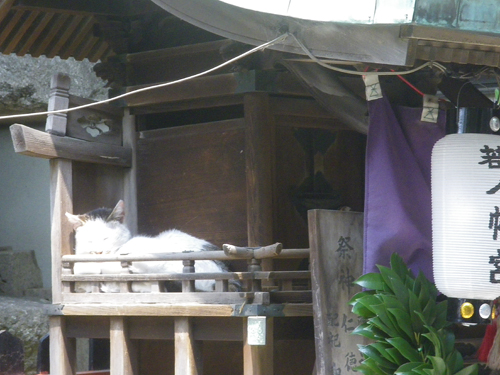 Yes. I live in a very beautiful country. OK, not all of Osaka is this photogenic (quite the concrete jungle actually), but there are countless oases of beauty throughout my city.
Please take a few minutes to watch this video I shot for you. IMO, it is a very important step you can take to ensure your success – and it costs you nothing except for a few minutes of your time.
Spent a nice, quiet Christmas at home this year. It's wonderful spending Christmas in Klosters (my hometown in Switzerland, which looks like a winter fairyland at Christmas time) and the year we did Vienna was fantastic, but it's also nice to stay home and be lazy.
Instead, did a lot of Christmas baking and cooking. Made a Weihnachtsstollen (German fruitcake). That was a dangerous mistake, as we couldn't stop nibbling at it. Gone in a day and a half.
For Christmas dinner, I whipped up a Shepherd's Pie. A little different from the usual, I used chunks of beef rather than ground meat, lots of red wine, and created a creamy mashed potato topping, with cream, egg, and parmesan cheese included. Was it good? Mmmmmm.
Hope you had a very Merry Christmas and are heading towards a Happy New Year!
After 2 1/2 months of writing – and many, many more months of planning for it – The Clockwork Manifesto's manuscript has finally gone to the publisher. A few minor adjustments were called for this morning, and now all I can do is sit and wait to get the proof copy. So, today was a reward for months of work. Rieko and I grabbed a train for Sakurai in Nara prefecture and hiked the twisting Yamanobe No Michi to Tenri.
This trail (more like a cobbled together batch of trails, paths through orchards, steps up to temples, and roads) winds for about 14-15 km along the foothills of the mountains that separate Nara prefecture from neighbouring Mie. There's a bunch of temples, shrines, kaki (persimmon) trees, and mikan (Japanese oranges) orchards along the way. It makes for a great day out on the trail.
The air was crisp, but the sunshine and the climbs kept us warm. Being a Wednesday, the trail was mainly ours – with only the occasional pair of fellow hikers. This is one of the perks we enjoy since I started making our income from the Internet – taking off mid-week and avoiding the crowds. Which brings me to a VERY IMPORTANT point:
It's A Great Life … If You Work For It
I see far too many who want to go the easy route. Far too many who just want to push a button and start making money. Far too many who want to put in the bare minimum of work, yet reap the rewards. Reality check! Nothing in life comes for free. I did not wake up one morning with money pouring into my account off the Internet like it was some kind of faucet that I simply had to open. I worked for it. I still work for it. And, some days, I work damned hard for it.
As I said earlier, I just finished putting in 2 1/2 months to write a book. Not because I'm a slow writer. Not because I only spent an hour or two a day writing. No, it was full days, writing and re-writing. Full days, taking screenshots, drawing illustrations, and editing them in Photoshop. Full days, assembling pictures, text, and page elements into a proper book. Full days, researching and finding the best examples to include in the book. Nothing good comes easy.
If you want to succeed in 2011, get ready to fully commit yourself to some hard work. It takes hard work to build a good venture that will make you a good income – long term and not just a spurt. But, once you've done that work … there's the rewards. And those rewards are sweet!
Right now, in the weeks leading up to Christmas, you can get a free copy of the popular guide to setting up a campaign over the next 3 days and putting instant commissions into your account (directly). Here's all the info you need … laid out in my usual step-by-step manner … and absolutely FREE (not even a sign up).
Right-click here to download for free now. Save this PDF to your hard drive. Then, get started on your campaign to put some Christmas Cash in your account ASAP.
Many moons ago (over 25 years ago to be exact) I was quite heavily involved with the crafts scene. I had a hand-dipped candle company called Northern Lights Taper Candles and participated in many craft fairs. My favourite was always the Crystal Garden Craft Fair in Victoria, BC – set inside a conservatory and only the best juried crafts were allowed. Here are some PCL members who have beautiful crafts and other Christmas-related items they make. Hopefully you can find a good alternative to standing in lines at Black Friday and fighting over some mass-produced item just because it's on sale.
Katie Darden
Katie lives in the wonderful little northern California coastal town of Trinidad. Her town has great memories for me, as I stopped there twice in the 1970s to fuel up on clam chowder and real strawberry milkshakes at The Eatery.
Being an artisan and craftsperson all her life, Katie now creates beautiful fused glass jewelry. A few months ago, Katie sent Rieko and I two wonderful pendants. She has an Etsy shop online, where you can see the creations of Fire Blessed Art. IMO, for the beautiful works she produces, her prices are well below reasonable. Great Christmas gifts.
Click here to visit Fire Blessed Art
Katie also does very colourful textile art and watercolours. You can see those at her Magical Design site.
Click here to go to Magical Design
Amanda Davey
Based in Kent in the UK, Amanda also has an Etsy shop, where she offers a range of handmade and/or handpainted Christmas ornaments and decorations designed to add style and class to your holiday season.
These decorations are ideal not only for your own use but also as keepsakes for the family and make ideal gifts. Her Christmas range is being introduced at special introductory prices until 31st December, 2010 and you can also get Christmas Goodie Bags.
Click here to go to Sew Retro, So You
Peggy Britton
Peggy has a nunmber of interesting doll clothes patterns for American Girl dolls (OK, I had no idea there was a line of dolls outside Barbie & Ken) in her online store. If you're handy with a sewing machine, what greater gift for a young girl than handmade and unique clothes for her doll.
Peggy tells me that many women buy her patterns, create the doll clothes, and then sell them at craft shows and Christmas fairs. There are also a number of free projects on Peggy's site.
Click here to go to Doll Clothes Patterns
Martha Yasuda
Ken Yasuda is a PCL member and his wife Martha is the in-house arranger for the Atlanta Symphony Orchestra. At her site, she has wonderful new arrangements of your favourite Christmas carols, which she has written.
These Christmas carols are written for a number of different string instruments and string instrument combinations, and one nice feature is that Martha provides a complete mp3 for each arrangement that you can not only listen to, but which is also downloadable.
Click here to go to Yasuda Music
Celeste Byrne
Celeste, who is originally from Ireland, is the woman behind CelesteJewel. She brings a unique set of skills, life experience and talent to her work. Having travelled the world while working in the airline business Celeste has an innate understanding of what women want. She is a qualified Image Consultant, Personal Colour Analyst and Success Coach. Style and colour are her forte. What she loves most about designing and creating jewellery is the opportunity to meet and work with women who love the timelessness of jewels – each piece has its own life story.
CelesteJewel is a Sydney based boutique online jewellery store. This unique costume jewellery is crafted using only the highest quality materials. These include Swarovski crystals,pearls, and semi-precious gems. All components are carefully sourced to ensure they are nickel free.
It has been said that her designs are traditional with a "twist". This makes them very wearable with today's fashion trends while also reflecting a certain timelessness ensuring many years of wearability and pleasure. From the corporate woman to the socially aware Celeste designs and creates jewellery for the woman who deserves something special – jewellery which carries her true essence and personality.
Click here to go to Celeste Jewel
Happy Christmas shopping. But, even more important than Christmas shopping … have a Happy Thanksgiving!